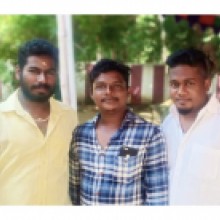 SIVAKAMI A/C Service Center
"Thanks to AIAT. The training at AIAT has helped us to improve our life situation significantly."
Three former AIAT students started a successful small scale service business company in Pondicherry and Vanur Thesil
Pabakaran. R. (Vanur Village), Jayasakthi. R. (Lawspet, Pondicherry) and Silambarasan. P. (Vanur Village), former students of the Electronics Mechanics class of 2012-14 batch, jointly started an electrical and air conditioning repair and maintenance service company.
The proudly told us they came from poor families. At the time of their studies at AIAT their parents were not able to finance the tuition fees. For that they worked part-time (night work at a petrol station or at an electrician's shop as a helper).
Nevertheless, all three managed to do it at the first attempt: raise money, complete the course, pass the exam successfully. HATS OFF! 
After course completion they worked as AC mechanic technician (air conditioning technician) and als electrician in a workshop in Pondicherry.
In 2018, to make a better living for themselves, they jointly set up their own business, 'SIVAKAMI A/C Service Center', for domestic electrical work and air conditioning installation and maintenance.
Currently they have three helpers and they are planning to expand their business in video surveillance systems (CCTV) installation and maintenance.
Expressing their gratitude, they said "Thanks to AIAT.